25 Jan

We're hitting the road, with an open heart!

Are you crazy? Right in the middle of a pandemic?  

Yeah, that's one way to put it, I get it. And I'm here today writing about something we've been preparing for (physically and mentally) for six months now, but that it's going to "start" happening next week. As much as we are complying with all the national restriction rules regarding covid-19, unfortunately, the situation is getting worse by the day and there are new rules every week. We cannot possibly predict all the factors being added to the table during these next seven days. Do you like adventures?
Why we're hitting the road and why now?
Since we arrived in Portugal, my husband and I have been trying to reinvent ourselves, to restart our journey more connected to what we believe and to our goals. And covid-19 (or call it 2020) stroke right in the middle of this search for a more meaningful life, when we we're just starting to finally see a way through all the questioning we've been making. We were both starting new businesses, dedicating ourselves to learn and find ways to implement these new dreams, we were excited about the future we started to build. And voilà, there we were again, adding new questions to what we thought was right for us.  Well, if you live on this planet, I don't need to explain the feelings brought by the pandemic. With all the new risks, factors, restrictions, and uncertainties that came with it we couldn't avoid the concern regarding these new plans we were starting to implement. And if it takes longer than expected? How can we get through an economic crisis without compromising our dreams? We realized we would need to make structural adjustments, starting by reducing cost of living.
We've been adopting a minimalist way of life for a while, so we knew since the beginning that the only way to significantly do this would be by reducing our rent. It was when we thought about volunteer work, we had such a great time doing it in the past in Germany and France. We learned new skills, we went to places that we'd never visit otherwise, we experienced other cultures in a deeper level, collecting wonderful memories and connecting with people that became family.
Sounds great, right? Even so, we listed and discarded many options before we finally decided to look for hosts and opportunities through Workaway. Behind every choice there is something you got to let go. For us, it was the having a home for an uncertain period of time. For me, it also tapped into the idea of protection that having your "own" roof over your head brings. I was renouncing that protection, right when the lockdown order was in place exactly for this reason, protection. I'm sharing this with you, dear reader, as a way for you to trust me when I say that this is a huge step for me, for us. It will not just be a "time on the road". No, my friend, is much more than that.
This is us being creative in a time of crisis. This is me doing whatever it takes to follow my dreams, to build the life I want for myself. A more creative life! That's how I've been always calling it, now it's my chance to make it happen. So, after the scary part of making such a decision, I'm in fact very excited about it. I'm embracing this detour in my path knowing that it'll bring me different experiences, unexpected scenarios, and situations to deal with. My heart is open to the new, whatever it may be. The only expectation I have is that whatever happens teaches me what I need to tap deeper into my soul, helping me to further unveil my artistic self and clarifying my true purpose. (Hey, there will be patterns!)
Where are we going
That's it, open hearts on the go next week (fingers crossed). We decided to "workaway" inside Portugal for now, and we also decided to stay longer at the same place than previously planned, to reduce potential exposure to covid-19 and avoid exposing others. We're going to the Azores first and we'll stay there for some months, in a very cool place. First time living on an island! A beautiful one, full of opportunities for hiking and exploring off-road tracks. I repeat, there will be patterns :). But I'll talk more about the Azores and our experience there in my next posts. 
We're hitting the road, folks! Yay!
(Note from husband: hopefully it won't hit us back)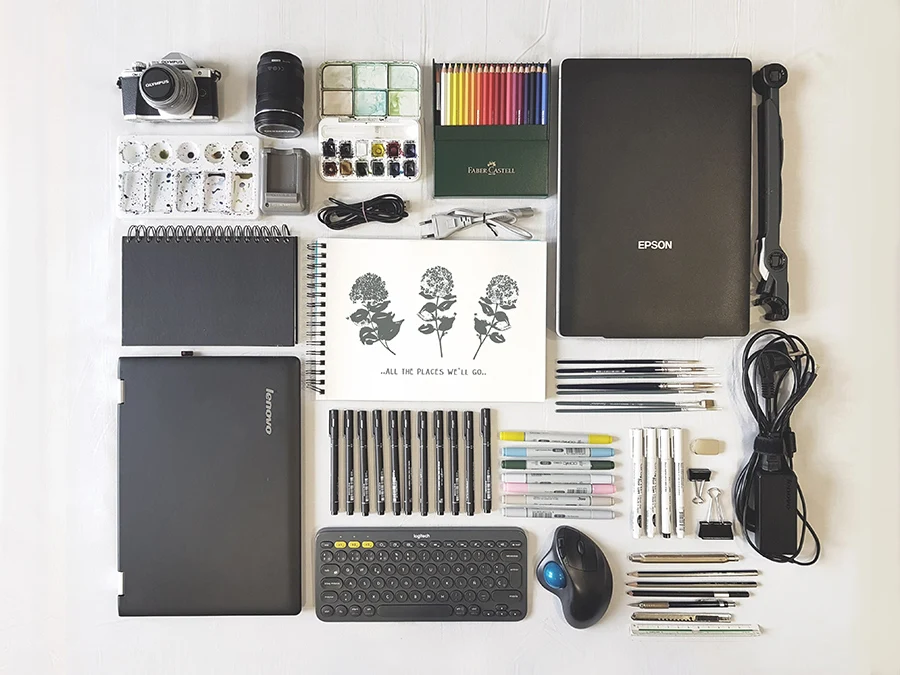 Packing art supplies for the road! Say hello to my little travel set.