11 May

Next station: Madeira Island – Welcome to my new home!

It's time to settle in for a little while. And we've chosen this amazing piece of land in the middle of the Atlantic Ocean to call home. Welcome to Madeira Island, my friends!

Spending two years on the road was one of the best experiences of my life and one of the most rewarding ones. I would do it again without thinking twice. But it's time for a rest. Moving around constantly – getting to know new places, learning about new cultures and new city routines, observing and being visually stimulated all the time, while trying to do our best in these new circumstances – it requires a lot of energy. And at least for me, this is the kind of energy that only the comfort of being home for a while can fully replenish.

And how do you go back home when there's no home? Yep, one more season of getting used to a new place before my energy levels are completely recharged. The good news is that we overcame the difficult part of deciding "where next", we speak the same language as the locals, and even though some things work differently here, we're quite used to Portuguese culture by now (we've been living in Portugal for the past five years, in case you just arrived here).
This post was written from behind this window, with this view, as many others will be from here on out. I made sure to set my workstation in a very special corner of the new apartment.
It seemed almost impossible to settle here in the beginning (the rental/real estate market is crazy at the moment), but we managed to rent an old-but-nice apartment with a beautiful view over Funchal city and the sea, and I have been in the process of furnishing it since. There's still some work to be done, of course. To "build" a home and feel at home in a new city is something that needs to be developed over time. And time just got another dimension. These two months on the island were enough to remind me of how powerful the stability of staying and knowing that I'll stay in the same place for a long time is, especially for work productivity. Now combine this with the energy of the new, of all the possibilities that come with it, and add the peaceful feeling of finally having a place to call my own again – that's the magical spot you'll find me in.
You'll start noticing this new-place-new-life vibration on the website and in the way I show up to you, too. So, bear with me while I experiment with a few new ways of communicating with you. Some changes are already in the making, and I can't wait to see where this new chapter will take us (us, you and me!). But this is a topic for another post.
Let's talk about Madeira and why we decided to move here. 
Rocky beaches are the most common ones on Madeira Island. This is the view of Vigario beach, surrounded by impressive cliffs. Câmara de Lobos, Madeira. 
Why Madeira?
If you were expecting something like "we loved this place and we wanted so badly to live here forever" kind of thing, this may be the part where I disappoint you.
We've never been here before.
Even though we'd read and heard about this beautiful place, we were a bit skeptical that it could be more beautiful than the Azores. The Azores have a special place in our hearts, so don't get me wrong. The point is that knowing and liking the place was not what brought us here. It was curiosity – and the weather.
This could be in a Wes Anderson movie – reason enough for this picture to be in this post. This is the Lido Bathing Complex, and there are many of these pools by the ocean around here. A creative way of allowing access to the ocean in places that would not be possible otherwise. They are usually equipped with ladders or diving boards that will take you straight to the world of fishes and other aquatic creatures.
We were very curious about the island, and the archipelago in general. After living in the Azores, and hearing so many attempts of comparing the two Portuguese archipelagos, we wanted to draw our own conclusions. And it seemed silly to choose to live in the Azores, for instance, without even knowing how life in Madeira was (well, this could apply to any place in the world. How do you choose one place over so many other possibilities? Allow me to jump over this rabbit hole). And we were also very curious to know why so many remote workers, location independent and digital nomads have chosen this place to live. So here we are to find out.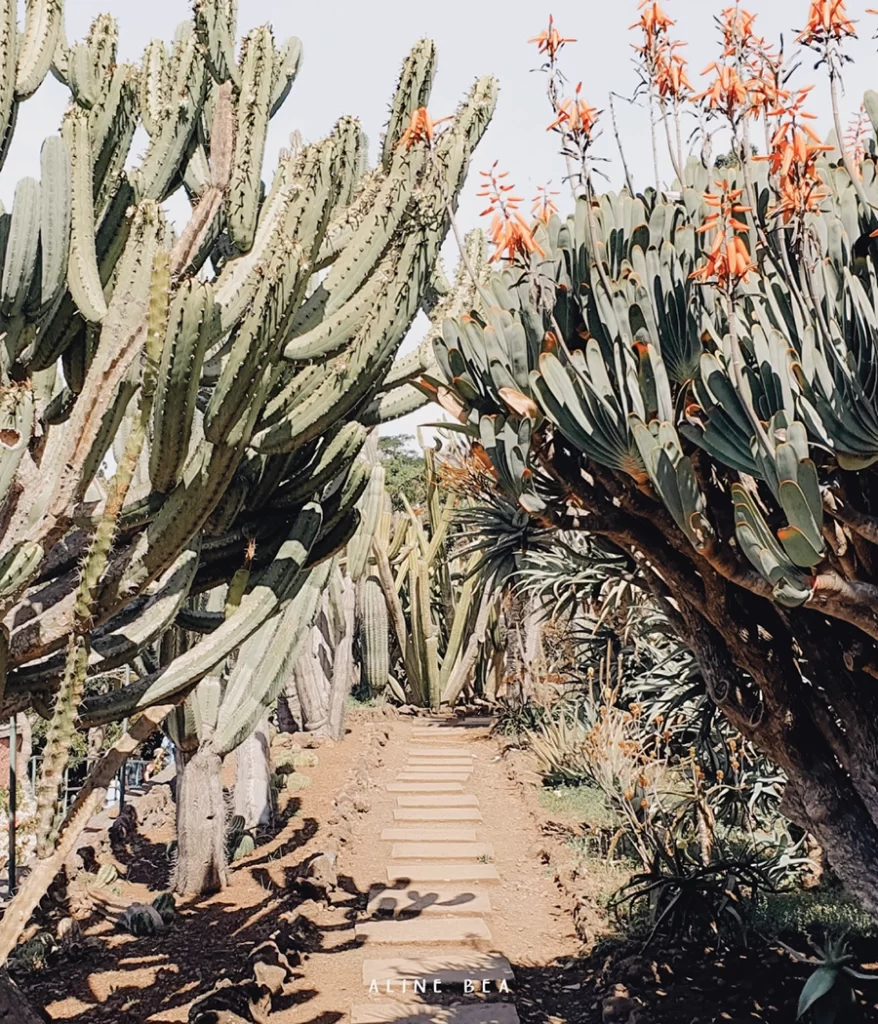 "Madeira's Botanical Garden has one of the most exotic collections of plant life in Europe" – says my Lonely Planet guide. I was mostly impressed by the views from there and the cactus garden, with its giant specimens. 
Ok, now we can start praising the little bit we got to know of this beautiful island so far. THE WEATHER! This was definitively one of the main reasons we ended up here. As someone that is allergic and sensitive to mold, to cold and humid weather, but that also suffers from low blood pressure on extremely hot and dry days, finding a place with "in between" weather is like a dream coming true. I couldn't stand feeling sick for most of the year anymore. So Madeira seemed like a good option in terms of overall quality of life
Until now, the days here have been mostly sunny, at least where we're located, in the southern part of the island (that was intentional too). The climate is so mild that they say it's Spring all year long. Funny is that I wrote on an Instagram post that it would be great to live in Spring forever, right after arriving here. I had no idea of this saying about Madeira then. The weather is good for me, but it's also amazing for nature and plants (extra points to Madeira)! The variety of fruits, vegetables, and flowers on the island is impressive (inspiration, is that you?).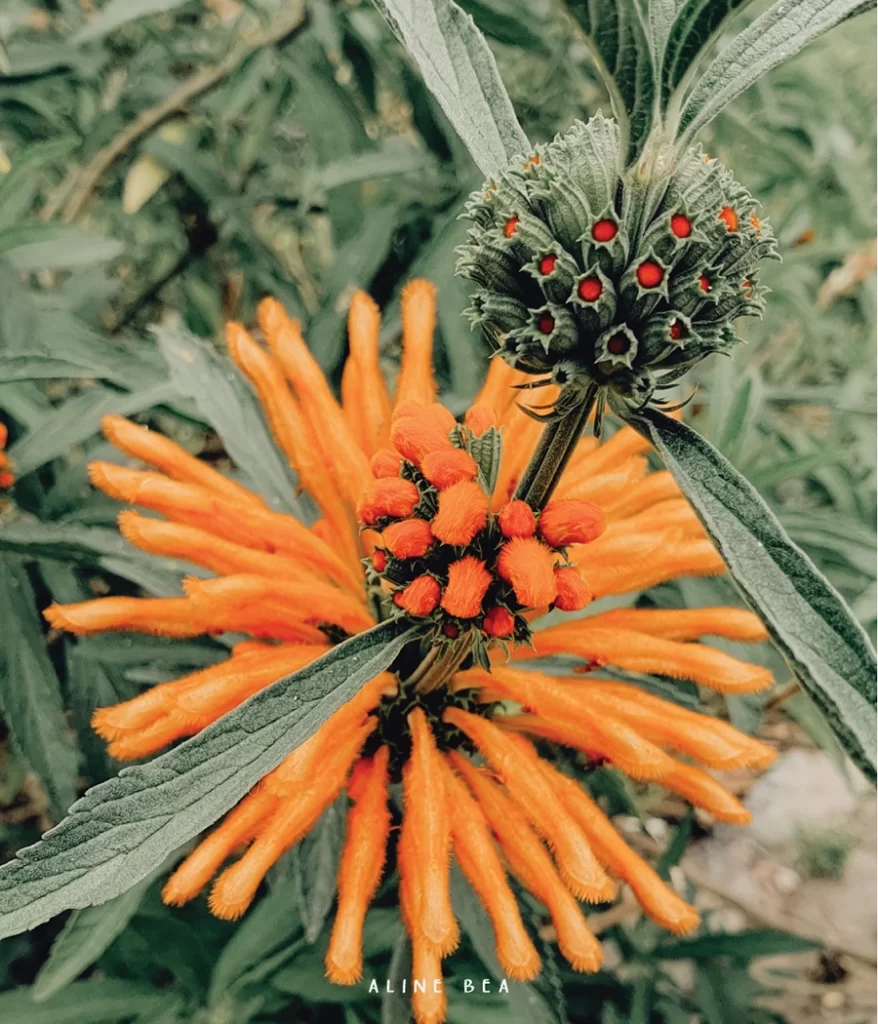 It's Spring, and they say it'll be Spring forever. May the Goddesses of Inspiration watch over me. Also, I've never seen this beauty before. 
We have so much to discover! In these past two months we barely touched the surface, as we were focused on finding an apartment, and then furnishing it, while getting work done. But the bits we've seen are oddly beautiful. . Not just the landscape and nature. But also the way they occupied the space on the island, the way they overcame the challenging terrain, the infrastructure, the houses built almost on top of each other, some are even built on cliff edges – automatic goosebumps for the architect here. There's so much to observe in only one frame of the landscape, whether built or natural.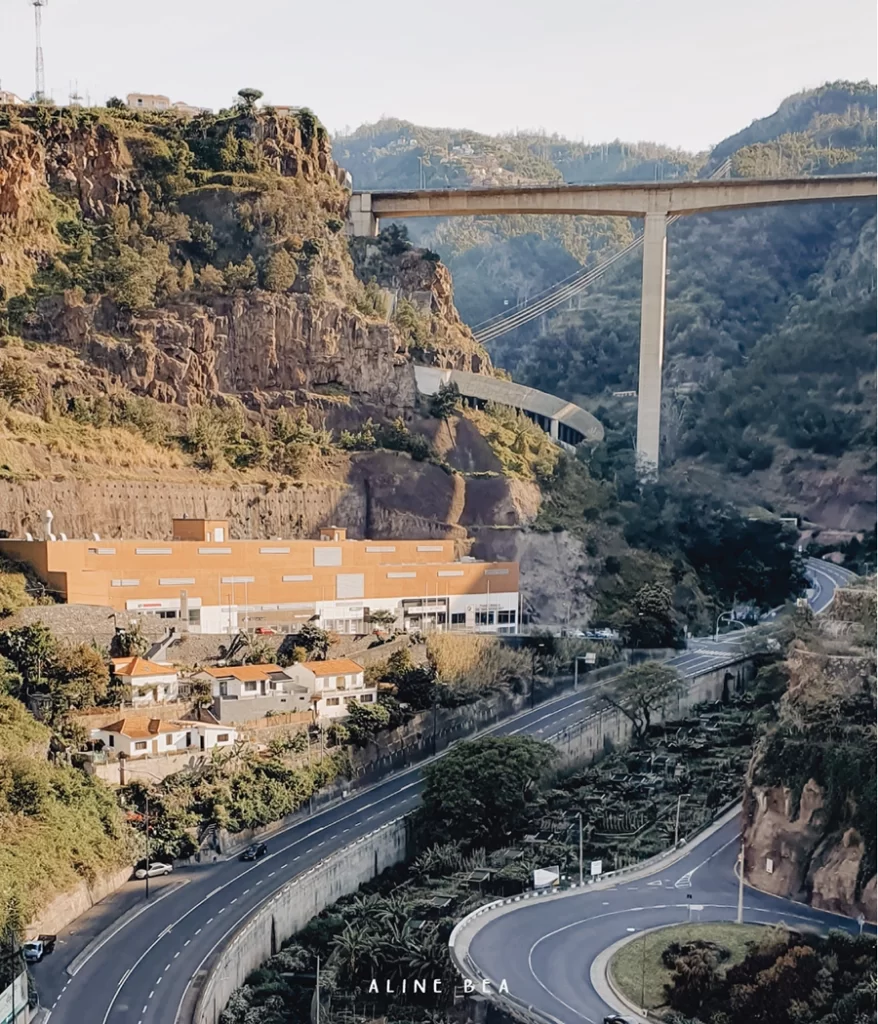 Road, highway, elevated highway, tunnel, and a cable car in the background. In between the roads there's a community garden, and a small watercourse. One frame! 
I'm very happy we decided to try Madeira out and I can't wait to share more about the island and this new life here, including the new designs being created from this magical little spot. I couldn't resist designing a new collection reflecting the feeling of all these new possibilities ahead – Sweet Whisper will be showing up in your inbox soon (if you sign up for my newsletter!). You will find a few designs from this collection on Instagram, as well as one reel of Funchal, and other of Câmara de Lobos, one of the first villages of Madeira Island.
But I must confess, I'm not feeling like Instagramming these days. And I've been shifting my efforts to find ways to connect with you in a more reliable and joyful way. For now, the best way to connect with me and stay in the loop is by signing up for my newsletter or following this blog and website. There are a lot of exciting things coming, and Instagram is not a part of this plan. There, I said it out loud. But don't worry, we'll talk more about these changes in the next blog.
I hope you enjoyed the ride/reading. Stay safe, stay curious.
Photography by Aline Bea, 2023.