05 Jul

Free printable spice labels – three layouts, 24 spices each

How about getting into the organization mood with me?  I recently moved into a new apartment and have been working on transforming it into a home. There's still a lot to do, but hey, I already labeled my spice jars! And I'm happy to share these labels with you, so you can print and organize your own kitchen as you please.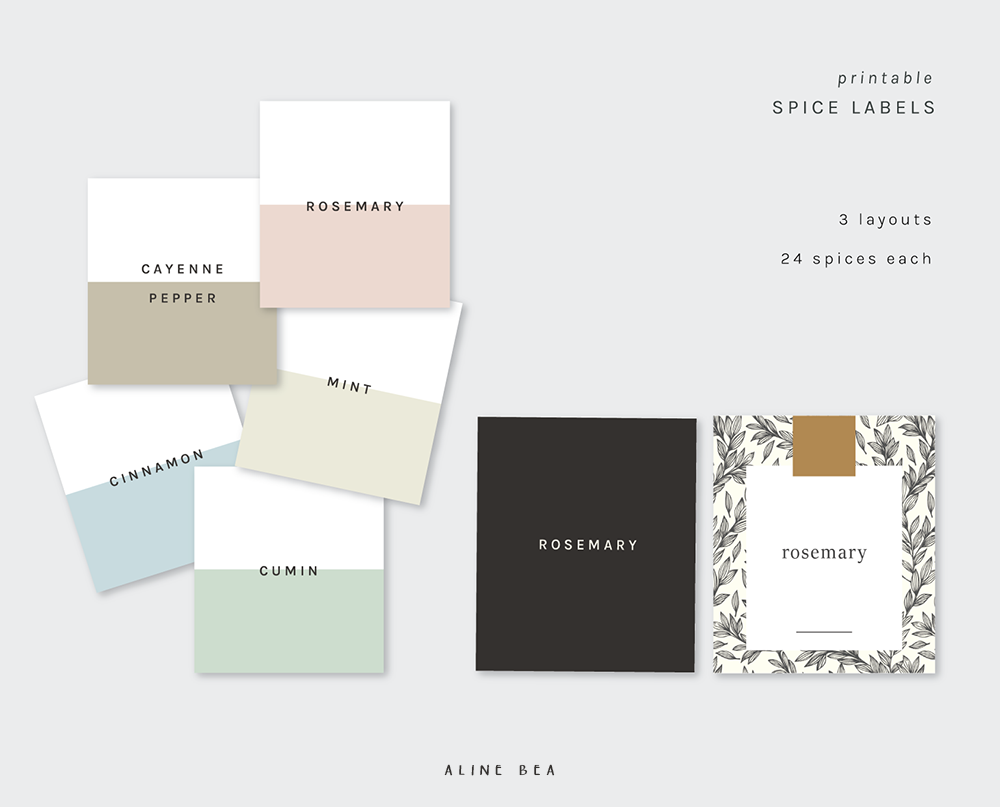 The printable spice labels file contains three different layouts for you to choose from. Layouts one and two are perfect for the minimalists, layout three will probably please those that love an extra detail. I also included one version with colorful labels, one with classic all-black labels, and one with a pattern. Each design contains a set of 24 spices. Some of them can be easily adjustable to the size of your jar too. Check the print and usage tips for more details.
Mint
Black Pepper
White Pepper
Thyme
Garlic Powder
Rosemary
Oregano
Turmeric
Cumin
Cinnamon
Cayenne Pepper
Nutmeg
Fennel
Bay Leaves
Smoked Paprika
Cardamon
Basil
Mustard
Coriander
Cloves
Ginger
Saffron
Herbs of Provence
Vanilla
For better overall quality, consider printing the labels on glossy or semi-glossy full-sheet sticker paper. Print shops will probably have this option for you. Glossy papers are easier to clean, which can be handy considering you'll be using them when cooking.
If your only option is normal matte paper, sticker or not, consider printing it on a thicker one, 90gr or more, and adding a piece of self-adhesive transparent paper on top when sticking the label to your jars. The labels will last longer, and you can clean the jars as you please.
The colors may vary according to the paper and print shop. I was not pleased with the colors of my first test, only after printing them in a second shop was that I could reach colors that were similar to the ones on my screen.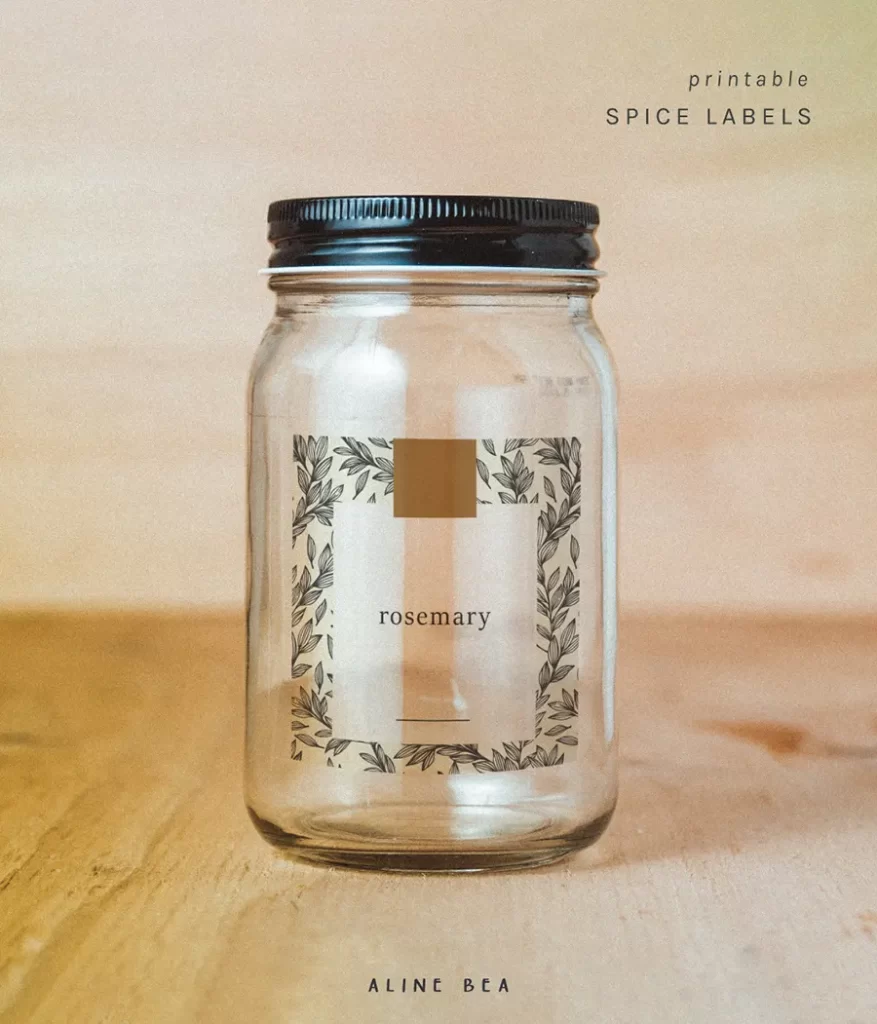 You can also play around and print the labels on transparent adhesive paper. In this case, the patterned layout is the most suitable one, it has more black lines. Colors usually do not transfer well to transparent paper, and the machine will ignore white. 
Mind the size and shape of your jars
I'm currently using two different sizes and shapes of jars in my kitchen, and I had a hard time making the labels fit the smaller, conic ones. Not because they are small, but because of their conic shape (the jars are wider on the bottom). The labels will need to be reduced in size for this kind of jar, otherwise they will get wrinkles on the top part when sticking them on the jars. The colorful one and the black layouts are best suitable for this reduction, as you can easily cut them to size.
The other option would be reducing the size while printing, in case you have smaller jars. Printer machines usually have a printing setting related to scale that will appear in your dialog box when sending the job to the printer.
The labels fit like a glove on cylindrical jars, though, no matter the size. You can decrease or increase the scale when printing. Or just cut them outside the external lines, keeping a white margin around them if you need bigger labels. Or cut on the inside of the external lines, to as much as you need to reduce them.
These are the jars I have been using at my home. I reduced the original size of the labels by cutting off the bottom and top of them.
Please, feel free to print these out for personal use. And don't forget to tag me on social media when sharing your beautiful spice jars! I would love to see how they turned out in your kitchen!
You are not allowed to commercialize or reproduce this artwork or part of it, though. And please, do not use it for marketing purposes on websites, social media accounts, blogs, and other printed material of any kind without previous consent.
.pdf file
3 different layouts
24 spices each
Where should I send yours?
In order to avoid bots, you'll be requested to confirm your subscription before receiving your printable labels. See you in your inbox! 🙂
Want more free resources?
Join my newsletter to get access to exclusive resources! I'm currently shifting my communication efforts to this blog and newsletter, being on my email list is now the best way to connect with me in a more reliable and meaningful way. See you there?