09 Aug

New resources page for mockups and printable files

Reading time: less than 5 minutes

The new free resources page is live! I mean mockup files, gift cards and tags, printable spice labels and many other resources to come. I'm very excited to finally have a dedicated section on this site to share many of the resources I have been using myself. Whether it's to showcase my designs in my portfolio, on my website and social media, or to make my daily life more beautiful and easier.
Pattern Trust, from pattern collection Sweet Whisper, applied to wallpaper. Mockup file and design by Aline Bea. 
Printable files and mockup files are available. Some can be downloaded immediately; others are exclusive to subscribers. Since printable files are self-explanatory, let's focus on mockup files today: how I have been using them, why I decided to share them with you, and how to use these Photoshop files.
If you have been around long enough, you know that I've been creating my own mockups. As a visual person, it's inevitable to imagine scenes and products when creating the designs. And mockups have worked as a tool to validate that vision and consequently, to inform final adjustments. Not to mention the satisfaction that comes from applying a design you just created to a surface, confirming how beautiful it would look in real life.
Ceramic plates mockup file by Aline Bea. Source image by Jean M. Vieregge.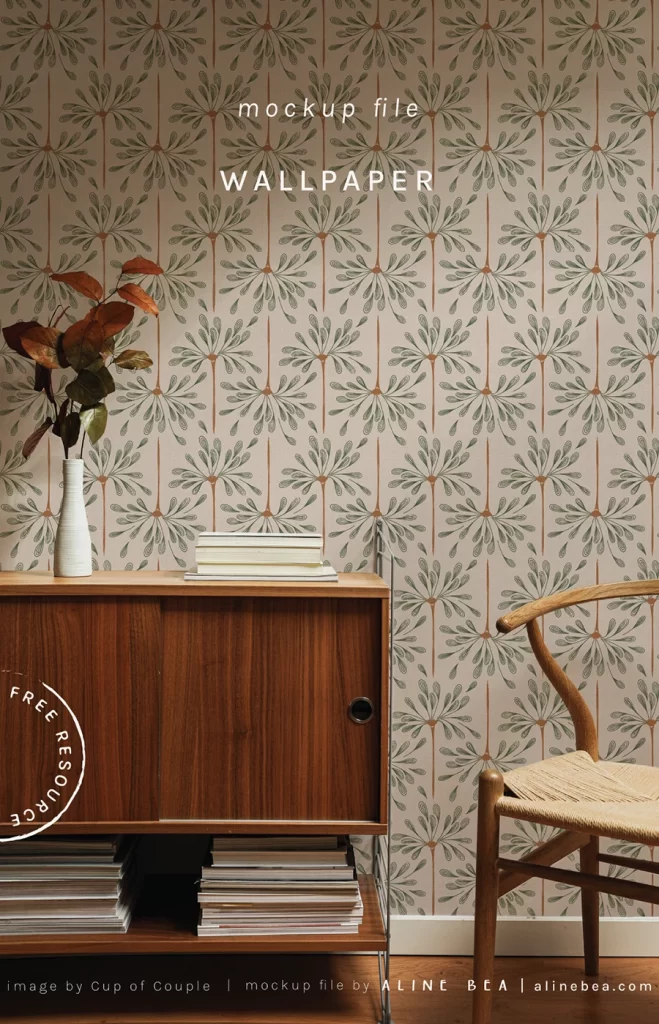 Wallpaper cupboard mockup file by Aline Bea. Source image by Cup of Couple.
The problem is that my vision rarely matches the mockups available on the market. I was spending hours surfing the web looking for files to buy, only to find out that the vision I was entertaining was more appropriated to that particular design. I still buy some mockups occasionally. But using free stock images and creating my own files turned out to be less time consuming, more effective, and less expensive. Thanks to platforms like Unsplash and Pexels, which provide access to tons of fantastic images shared by photographers and other creatives worldwide.
The perfect mockup for every design exists. And it becomes difficult to use the same file for other patterns after reaching this perfect combination. Resulting in many mockup files in my computer, all waiting for their ideal pair – that may be one of your designs! It's time to share these resources with you, fellow designers.
How to use .psd mockup files
1. Locate the Smart Object "Your Design" in the Layers panel (the green layer).
2. Double-click its thumbnail. Photoshop will open a new file.
3. In this new file, go to the "File" tab and click "Place Embedded".
4. Select an image of your design. Place it. And adjust it to fit the artboard as needed.
5. Save this new file.
6. Go back to the main file, your design should be automatically applied.
7. Export your image and show your work!
Extra steps
8. Brightness and shadow adjustment layers may be available in some files. Look for them if you think the image is too dark or too bright. I recommend exploring these layers to find what works best for your design. Darker designs usually require different adjustments.
9. Select background types when options are available. And adjust them as needed.
For an illustrated guide, click here.
Printable gift cards and tags by Aline Bea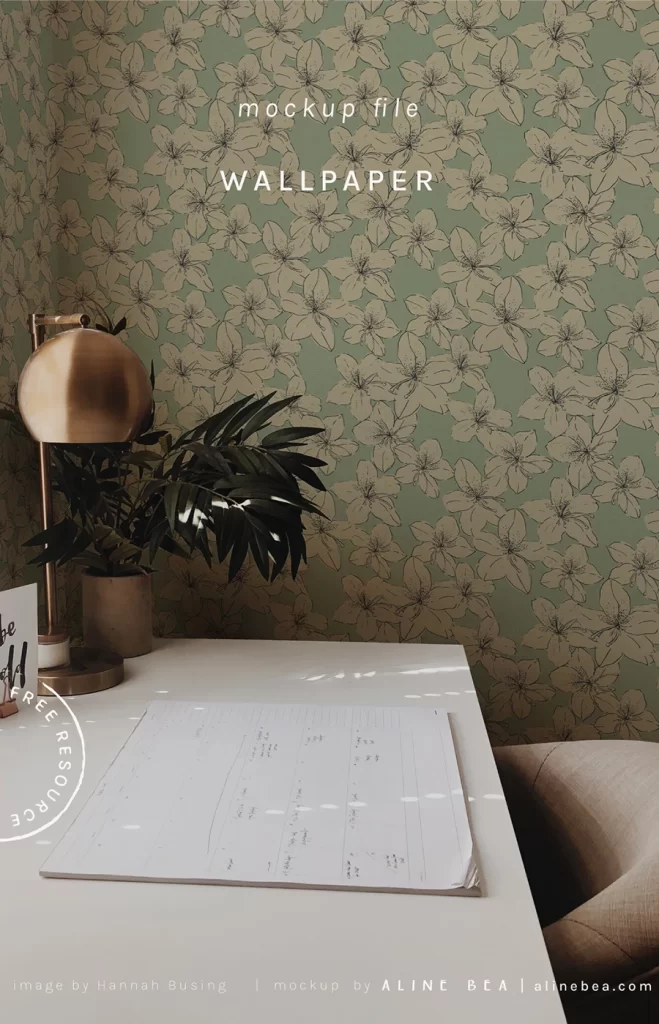 Wallpaper home-office mockup file by Aline Bea. Source image by Hannah Busing.
The files and their content are for personal use only. They can be used to showcase and promote your own designs on your website, online portfolio, and social media accounts (mockup files). Or printed out for personal use (printable files). They cannot be offered as giveaways, free resources, or commercialized in any way. Please, read the "Read Me" file in the package you are going to download, if available.
Finding the right image can be a big challenge sometimes. Luckily, brilliant photographers are providing us with stunning and varied images through free stock websites. Please, mention their names too when sharing your images, whenever possible.
When sharing on Instagram: please tag @alinebea and mention the photographer's name if given.
When sharing on websites, blogs, Pinterest or other platforms and media: please include a link to Aline Bea's website or the resource page. Clickable mentions are the best way to help others find these resources and allow them to benefit from them as well.
Community over competition, always. 
Printable spice labels by Aline Bea. 
I can't wait to see your designs in these mockups and how you will use the printable files! I hope they are useful, helping you to showcase your beautiful work to companies and clients. Don't forget to tag me on Instagram for a chance to be featured on my stories.
If you have any questions about the files and how to use them, please send me a message. I will be happy to help you out.